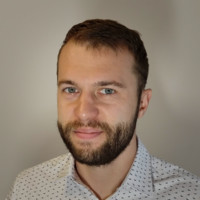 Tagline:

Let's talk about: travel, productivity, food, productivity, Dark Souls, consulting
Twitter:
Company:

—
Job title:

Python consultant
Company website:
Biography:

I'm a software engineer with 7 years of experience in full stack development, operations and leading small projects. I worked as a DevOps at CERN for the past 6 years. Recently, I have started my own journey with Python consulting and training.

In my spare time, I like to talk about Python, coding and productivity.
Sebastian Witowski's Talks