PyData is an important conference series for the Python Data Science Community, with numerous events held in US and in Europe.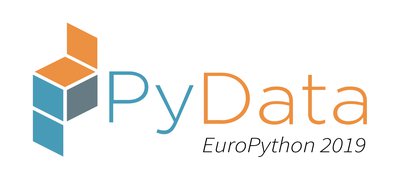 PyData Track @ EuroPython
We are happy to announce a PyData track as part of the main EuroPython conference this year, so you can enjoy PyData talks and training sessions without having to get an extra ticket.
The PyData track is run in cooperation with NumFocus. Find more information and the mission of NumFocus supporting Open Source Software below.
There are two full tracks featuring more than 30 talks and 4 trainings:
4 trainings on Monday and Tuesday (July 8-9)
34 talks on Wednesday and Thursday (July 10-11)
no PyData talks on Friday (July 12)
Keynotes
Talks
Training sessions

About NumFocus
The mission of NumFOCUS is to promote open practices in research, data, and scientific computing by serving as a fiscal sponsor for open source projects and organizing community-driven educational programs.
NumFOCUS envisions an inclusive scientific and research community that utilizes actively supported open source software to make impactful discoveries for a better world.
Many known projects are supprted by NumFoucs, just to mention a few: NumPy, Pandas, Matplotlib, Jupyter, SciPy, SymPy, Bokeh, xarray,… The full list.

NumFOCUS is a 501(c)3 public charity in the United States.